ANM Awarded State of Arizona Network & Telephone Equipment & Services Contract
Albuquerque, New Mexico, April 21, 2022
April 21, 2022— ANM, a national leader in IT consulting and cybersecurity services, has been awarded the State of Arizona Network & Telephone Contract, contract number CTR059864. The contract provides State, Local, and Education (SLED) entities a contract vehicle with vetted solution providers to address their most critical IT needs.
ANM was selected amongst 26 solution providers who submitted a proposal to the Arizona State Procurement Office (SPO). The SPO evaluated solution providers based on their Methodology and Approach, Capacity and Experience, and Cost.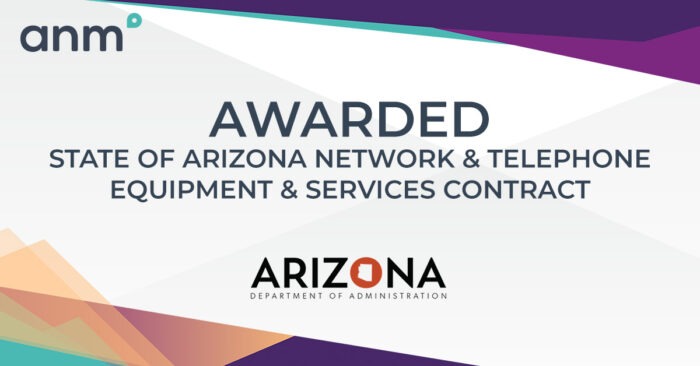 "We opened our Arizona office in 2019 and we have been eager to expand our contract portfolio to serve Arizona's SLED clients," said Lee Loen, Chief Revenue Officer, ANM. "As one of the most widely accepted contracts in the State of Arizona, we look forward to supporting our current and future public sector clients with this key contract vehicle. He continued, "As an organization, over half of ANM's customers come from the SLED space. We are excited to make it easier for our clients to leverage our experience and expertise."
The Arizona State Procurement Office (SPO) announced the award on April 19, 2022, with an immediate effective start date.
About ANM
One of the fastest-growing IT consultancies in the U.S., ANM provides innovative solutions and expert local service to large and mid-sized companies. Our dedicated team designs, implements and supports IT solutions in enterprise networking, cloud, remote workforce solutions, collaboration, security, cabling, and audio visual. We are an award-winning partner of leading technology providers such as Cisco, Cohesity, CommScope, Commvault, Dell Technologies, F5, HPE, Infoblox, Palo Alto Networks, Pure Storage, Salesforce, , Veeam, Verkada and VMware.
ANM is headquartered in Albuquerque and has offices in Denver, Colorado Springs, Scottsdale, and El Paso. We enjoy a 98.6% customer satisfaction rating, as well as excellent employee and customer retention rates.