ANM Named Partner of the Year at the Automation Anywhere's 2022 Virtual Partner Summit
Albuquerque, New Mexico, April 5, 2022
April 05 2022—ANM today announced that it has been named as the Automation Anywhere Partner of the Year for Cloud Sales Partner in the Americas. The Global Partner awards were presented at the Automation Anywhere Virtual Partner Summit on March 31, 2022, to recognize partners worldwide for their investments and dedication to providing solutions and services that customers rely on to intelligently automate their businesses.
The Partner of the Year award for Cloud Sales Partner recognizes ANM for achieving exceptional success positioning, selling, and delivering Automation Anywhere 360 cloud products.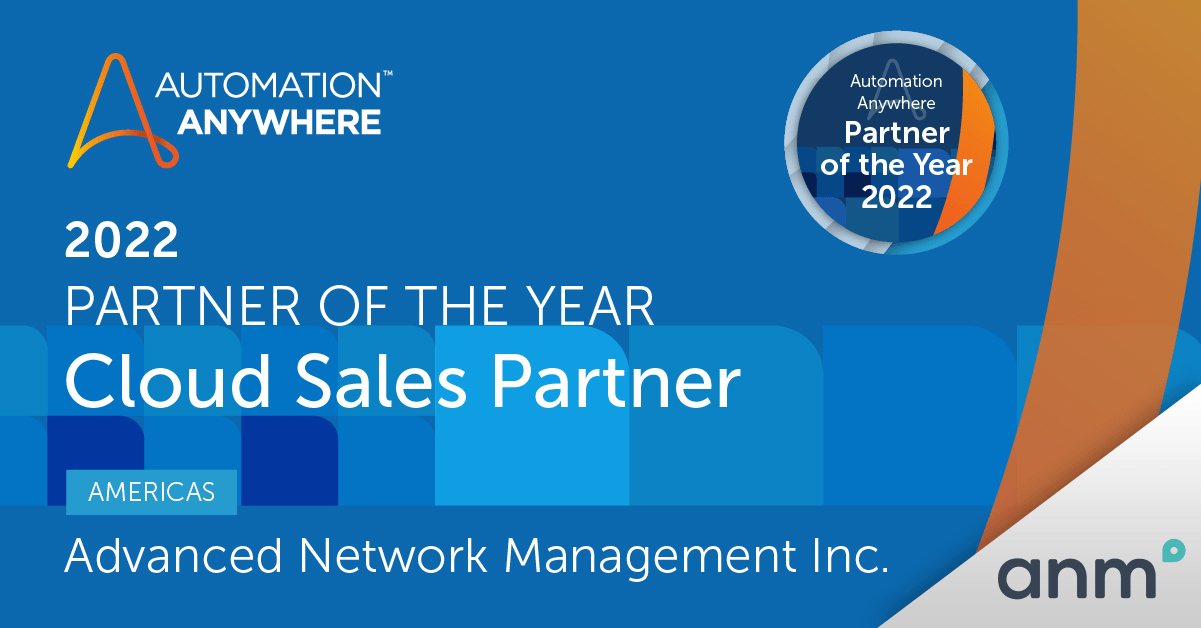 "We are thrilled to recognize ANM for your outstanding commitment to customer excellence," said Ben Yerushalmi, senior vice president of Global Alliances and Channels, Automation Anywhere. "As our company accelerates its partner investment and growth in the channel, we look to organizations like ANM to continue to be a powerful force in bringing new innovations to market that help organizations speed and scale their automation journeys."
"We are very humbled to be recognized as Automation Anywhere's Partner of the Year for Cloud Solutions. It has been an incredible experience partnering with our clients and Automation Anywhere to digitize and automate business critical processes across a variety of verticals," said Aman Arora, Partner, ANM.
"Our Digital Transformation team continues to be the fastest growing segment of ANM's business. This award highlights that the investments we're making are paying off for our team and our clients. I want to thank Automation Anywhere for all their support and look forward to our continued partnership."
About ANM
One of the fastest-growing IT consultancies in the U.S., ANM provides innovative solutions and expert local service to large and mid-sized companies. Our dedicated team designs, implements and supports IT solutions in enterprise networking, cloud, remote workforce solutions, collaboration, security, cabling, and audio visual. We are an award-winning partner of leading technology providers such as Cisco, Cohesity, CommScope, Commvault, Dell Technologies, F5, HPE, Infoblox, Palo Alto Networks, Pure Storage, Salesforce, , Veeam, Verkada and VMware.
ANM is headquartered in Albuquerque and has offices in Denver, Colorado Springs, Scottsdale, and El Paso. We enjoy a 98.6% customer satisfaction rating, as well as excellent employee and customer retention rates.