ANM Recognized With Multiple Awards at Cisco Partner Summit 2023
Albuquerque, New Mexico, November 16, 2023
ANM proudly announces winning multiple awards at Cisco Partner Summit 2023 in Miami, Florida. ANM received the Regional Partner of the Year: Pacific Southwest Award for the third year in a row and the SLED Impact Partner of the Year Award. This recognition further affirms ANM as the premier Cisco partner for the USA West Area, including Southern California, Arizona, New Mexico, Utah, Nevada, and Colorado.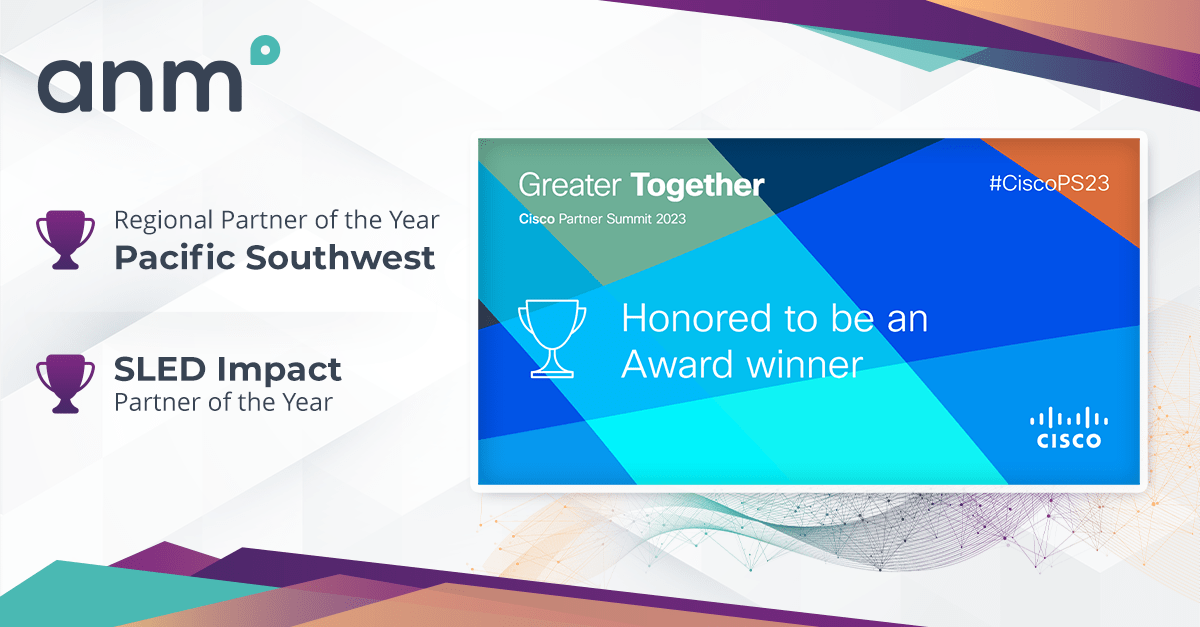 At Cisco Partner Summit 2023 – November 6-9, 2023 – thousands of Cisco partners from around the world gathered to network, learn, and celebrate shared successes. Throughout the week, executive leaders shared strategy, innovation, and technological solutions, emphasizing the collaborative spirit that makes us "greater together."
Recipients of Cisco Partner Summit Awards are top-performing partners that have introduced innovative processes, seized new opportunities, and adopted sales approaches that achieve substantial business outcomes for customers. The awards recognize partners for their achievements within specific technology categories and markets across the world. Award recipients are selected by a group of executives representing Cisco's Global and Regional Partner Sales Organizations.
Raminder Mann, CEO of ANM, expressed his satisfaction, stating, "We are honored to receive recognition from Cisco, demonstrating our enduring partnership and sustained growth. With an expanding team of engineering experts dedicated to designing, deploying, and managing Cisco technologies, we look forward to helping our clients mitigate risks and advance their digital transformation journeys."
About ANM
One of the fastest-growing IT consultancies in the USA. ANM provides innovative solutions and expert engineering to large and mid-sized organizations. Our dedicated team designs, implements, and supports IT solutions in risk mitigation, enterprise infrastructure and digital transformation.
ANM is headquartered in Albuquerque, NM and has offices in Casper, WY; Denver, CO; El Paso, TX; and Scottsdale, AZ. We enjoy a 98.6% customer satisfaction rating, as well as excellent employee and customer retention rates.
Media Contact:
ANM
Amy Gregory
720-593-5926
[email protected]