ANM's Paul Cooke, JR Garcia, and Kurt Huegin are Being Recognized as CRN's 2023 Next-Gen Solution Provider Leaders
Albuquerque, New Mexico, October 31, 2023
ANM is proud to announce that CRN, a brand of The Channel Company, has chosen Paul Cooke, Director of Sales in Colorado, JR Garcia, Director of Solutions Engineering, and Kurt Huegin, VP of Sales & Marketing, as 2023 Next-Gen Solution Provider Leaders.
This list honors the exceptional individuals who are key contributors to driving growth and strategic direction for the companies they work for today and are poised to be tomorrow's channel innovators.
The third-annual Next-Gen Solution Provider Leaders list includes rising star executives, managers and directors, 40 years of age or younger, who have demonstrated clear leadership qualities in their roles at integrators, VARs, MSPs and other IT solution provider organizations.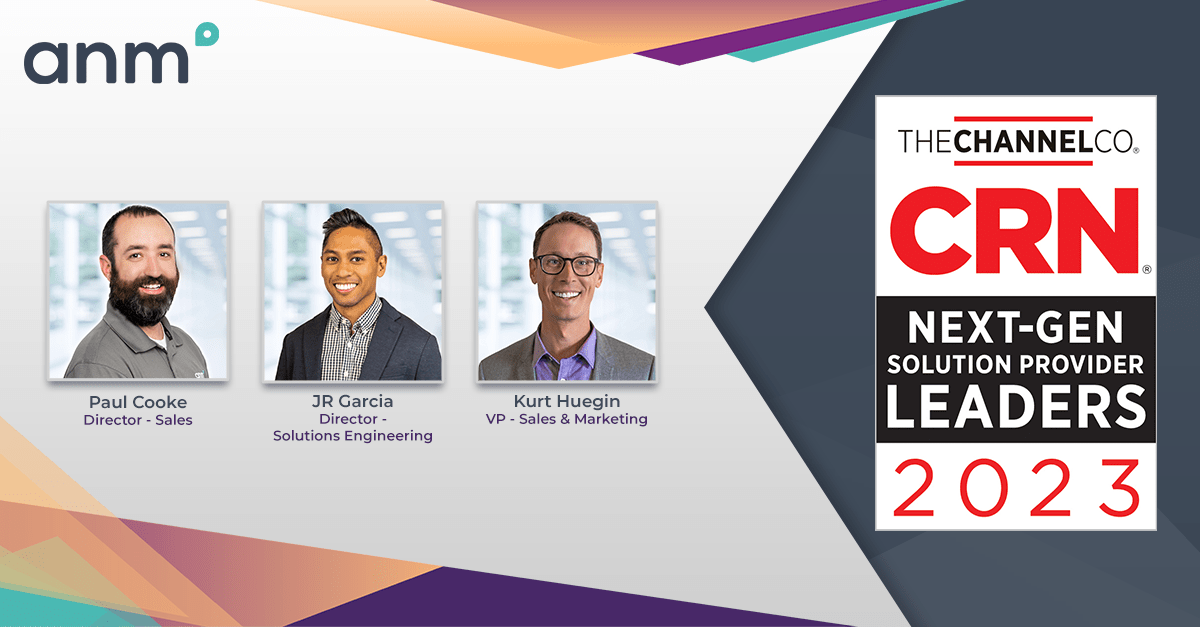 Paul Cooke, Director of Sales, exemplifies the essence of dedication and sales strategic brilliance at ANM. With over eight years of invaluable service, he has been the driving force behind our sales success in Colorado and Wyoming. His innovative approach and commitment to excellence have reshaped our markets, setting new standards for growth and customer satisfaction. Paul's unwavering passion for our mission has made him an invaluable asset to ANM and a true inspiration for our team.
JR Garcia, Director of Solutions Engineering, has represented exceptional leadership and expertise at ANM. His visionary approach has not only elevated our architectural selling efforts but has also inspired the creation of our ANM Certified Expert (ACE) certification program. JR's commitment to innovation and professional development has reshaped our engineering landscape, ensuring our clients receive cutting-edge solutions. His dedication is vital to ANM's commitment to providing top-tier services, and we're proud to have him as an integral part of our team.
Kurt Huegin, our VP of Sales & Marketing, has been influential in ANM's remarkable journey. His strategic vision and leadership have significantly shaped our expanded customer engagement strategy. Through recruiting, sales alignment, resource planning, and innovative marketing initiatives, Kurt has driven substantial growth and increased our market share across all regions. His commitment to excellence and ability to transform challenges into opportunities make him a driving force in our success story. ANM is proud to have Kurt on board, steering our sales and marketing efforts to new heights.
"I am immensely proud of Paul Cooke, JR Garcia, and Kurt Huegin for their exceptional achievement as Next-Gen Solution Provider Leaders. Their dedication, innovative thinking, and leadership have not only driven ANM's success but also set a standard for excellence in our industry," said Raminder Mann, CEO of ANM. "This recognition underscores their insistent commitment to advancing our organization, and I have no doubt that they will keep motivating and guiding our team towards even greater achievements in the future."
"The CRN's Next-Gen Solution Provider Leaders list is a tribute to the IT channel's visionaries and trailblazers who are leading the way into the next era of the IT channel, said Jennifer Follett, VP, U.S Content, Executive Editor, CRN. "We extend our formal congratulations to the individuals featured on this year's list for their contributions of fresh ideas and innovations that exemplify the very best of what the IT channel has to offer."
The Next-Gen Solution Provider Leaders list will be featured in the December issue of CRN Magazine and can be found online at www.crn.com/NextGenSPLeaders.
About The Channel Company
The Channel Company enables breakthrough IT channel performance with our dominant media, engaging events, expert consulting and education and innovative marketing services and platforms. As the channel catalyst, we connect and empower technology suppliers, solution providers and end users. Backed by more than 40 years of unequalled channel experience, we draw from our deep knowledge to envision innovative new solutions for ever-evolving challenges in the technology marketplace.
Follow The Channel Company: Twitter, LinkedIn and Facebook
© 2023 The Channel Company, LLC. CRN is a registered trademark of The Channel Company, LLC. All rights reserved.
The Channel Company Contact:
Natalie Lewis
The Channel Company:
[email protected]
About ANM
One of the fastest-growing IT consultancies in the U.S., ANM provides innovative solutions and expert engineering to large and mid-sized organizations. Our dedicated team designs, implements, and supports IT solutions in risk mitigation, enterprise infrastructure and digital transformation.
ANM is headquartered in Albuquerque, NM and has offices in Casper, WY; Denver, CO; El Paso, TX; and Scottsdale, AZ. We enjoy a 98.6% customer satisfaction rating, as well as excellent employee and customer retention rates.
Media Contact:
ANM
Amanda Dziszuk
480-385-0605
[email protected]