Cisco Recognizes ANM With Multiple Awards at 2022 Partner Summit
Albuquerque, New Mexico, November 11, 2022
ANM is proud to announce the winning of multiple awards at Cisco's 2022 Partner Summit in Las Vegas. ANM received the West Area Collaboration Partner of the Year as well as Cisco's Regional Partner of the Year in the Pacific Southwest. This highlights ANM as Cisco's top partner in Southern California, Arizona, New Mexico, Utah, Nevada and Colorado.
Cisco Partner Summit 2022 brought together thousands of Cisco partners from around the world to network, learn and celebrate their shared successes with Cisco. Around 90 percent of Cisco's revenue flows through Cisco's partners, represented by tens of thousands of partners from more than 150 countries. After two years of being held virtually, Cisco welcomed the partner community to Las Vegas on November 1-3, 2022. Key themes for the week included the continued shift to software, managed services and the value partners provide in helping clients get value out of their Cisco investments.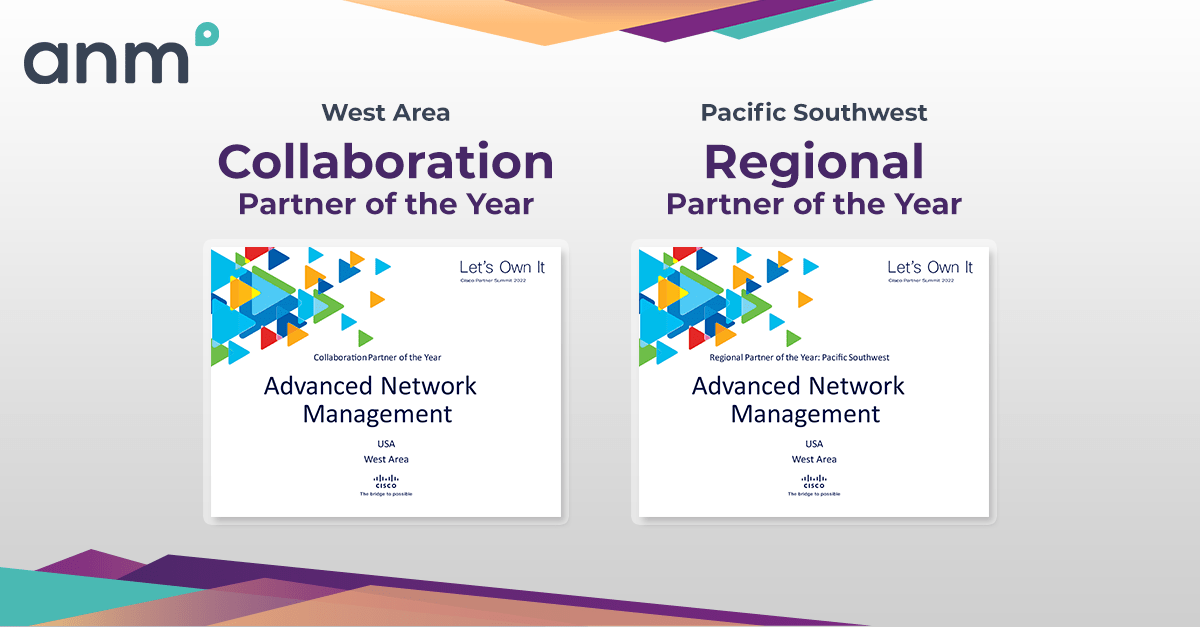 "We're pleased to be recognized by Cisco for our continued partnership, as evidenced by another strong year of growth together and an ever expanding team of engineering expertise to design, deploy and manage technologies from Cisco," said Raminder Mann, ANM CEO. "As we help clients mitigate risk and further their digital transformation journeys, we're excited to continue to leverage Cisco's technologies to help them achieve their goals."
About ANM
One of the fastest-growing IT consultancies in the U.S., ANM provides innovative solutions and expert engineering to large and mid-sized organizations. Our dedicated team designs, implements, and supports IT solutions in risk mitigation, enterprise infrastructure and digital transformation.
ANM is headquartered in Albuquerque and has offices in Casper, Denver, Scottsdale, and El Paso. We enjoy a 98.6% customer satisfaction rating, as well as excellent employee and customer retention rates.
Media Contact:
ANM
Kurt Huegin
480-385-0609
[email protected]