CRN Confers Triple Crown Award to ANM in Recognition of Remarkable IT Market Leadership
Albuquerque, New Mexico, October 11, 2022
ANM, one of the fastest growing IT consultancies, announced today that CRN, a brand of The Channel Company, has named ANM as a 2022 Triple Crown Award winner. The Triple Crown Award is reserved for those select few companies that earn a spot on all three of CRN's prestigious solution provider award lists in the same calendar year.
ANM Wins CRN Triple Crown
Now in its ninth year, the CRN Triple Crown Award spotlights top North American solution providers for displaying a tireless commitment to achieving high revenue, company growth, and unparalleled technical expertise within the IT channel.
To qualify for the CRN Triple Crown Award, companies must earn a place on CRN's Solution Provider 500, a ranking of the largest IT solution providers by revenue in North America; the Fast Growth 150, a ranking of high-growth organizations in the channel; and the Tech Elite 250, which recognizes solution providers that have attained top-level certifications from leading technology vendors in the industry. Being chosen for even one of these prestigious lists is an honor worth celebrating but meriting a spot on all three lists in a single year demonstrates a rare combination of tremendous achievement, sales acumen, and technical prowess.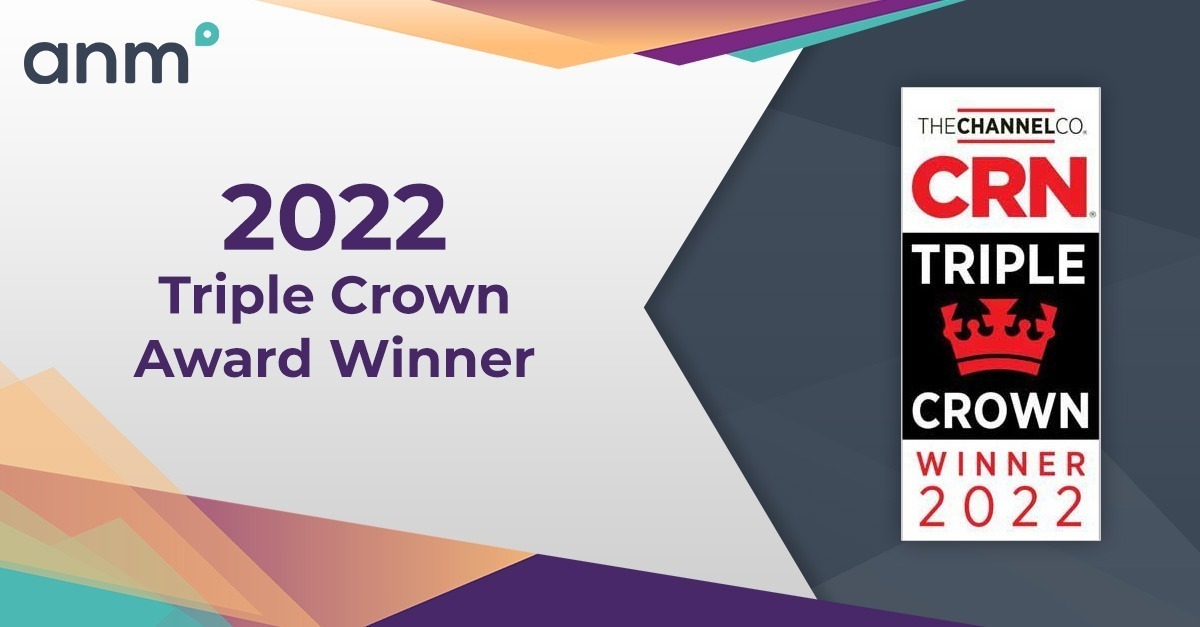 "We're excited to once again be recognized as a Triple Crown winner," said Raminder Mann, CEO of ANM. "To be one of less than 30 providers nationally to be recognized each of the last three years is an amazing honor. Our mission is to provide the IT freedom needed for our clients' acceleration, and this is a wonderful validation of our team's approach and expertise."
CRN highlights ANM achievements:
2022 SP 500 Rank: No. 121
2022 Fast Growth 150 Rank: No. 86
2022 Fast Growth Rate: 52%
Triple Crown Winner: 2017, 2020, 2021, 2022
This year's Triple Crown Award winners will be featured in the October 2022 issue of CRN and online at www.crn.com/triplecrown.
About The Channel Company
The Channel Company enables breakthrough IT channel performance with our dominant media, engaging events, expert consulting and education, and innovative marketing services and platforms. As the channel catalyst, we connect and empower technology suppliers, solution providers and end users. Backed by more than 30 years of unequalled channel experience, we draw from our deep knowledge to envision innovative new solutions for ever-evolving challenges in the technology marketplace. www.thechannelco.com
Follow The Channel Company: Twitter, LinkedIn, and Facebook.
© 2022 The Channel Company LLC. CRN is a registered trademark of The Channel Company, LLC. All rights reserved.
The Channel Company Contact: 
Jennifer Hogan
The Channel Company:
[email protected]
Media Contact: 
Mike Mayo
(858)362-5083
[email protected]
About ANM
One of the fastest-growing IT consultancies in the U.S., ANM provides innovative solutions and expert engineering to large and mid-sized organizations. Our dedicated team designs, implements, and supports IT solutions in risk mitigation, enterprise infrastructure and digital transformation.
ANM is headquartered in Albuquerque and has offices in Casper, Colorado Springs, Denver, Scottsdale, and El Paso. We enjoy a 98.6% customer satisfaction rating, as well as excellent employee and customer retention rates.
Media Contact:
ANM
Kurt Huegin
480-385-0609
[email protected]